Disclaimer: Your capital is at risk. This is not investment advice.
Token Takeaway: CHZ
With the first-ever winter FIFA World Cup kicking off in Qatar later this year, there is no doubt that the event will attract the attention of billions worldwide. One crypto project that can monetise and showcase itself to the masses is Chiliz. Chiliz is a sports fan engagement platform that enables the tokenisation of sports teams. The platform is powered by its native token, CHZ, and this Token Takeaway will look at whether this crypto project has any real potential or is just a fad.
Overview
Chiliz was founded by Alexandre Dreyfus in 2012, but the blockchain development began in 2018. Mr Dreyfus is the current CEO of Chiliz and has an impressive portfolio of successful online gaming and gambling platforms. The entrepreneur is responsible for founding Chillipoker and Winimax, with the latter being the largest poker platform in France.
In Q2 2018, Chiliz held a private placement for its CHZ token and raised $66 millionby selling CHZ tokens at a price of $0.0215. With CHZ currently trading at $0.187 at the time of publication, that is a 769.8% increase. While a 769.8% increase over four years is something to aspire for with investments, many might wonder what the function of CHZ is - enter Socios.
Socios
Socios is an online platform also founded by Alexandre Dreyfus and works solely with the Chiliz platform, with CHZ as the exclusive digital currency. The Socios platform enables sports teams to monetise their fan base via a custom Fan Token Offering (FTO), giving fans access to a variety of benefits. Socios is available on mobile and desktop, where users can trade CHZ for fan tokens on the Socios exchange. Fan tokens are like governance tokens, allowing holders to vote on minor decisions related to the sports team that issued the token. Users are also eligible for VIP rewards, access to exclusive club and sponsor promotions, games, chat and "super-fan" recognition.
Most sports teams run like businesses, and these fan tokens are means to generate extra revenue. As evident from AC Milan FC raising $6 million with the launch of their fan token, sports fans are very passionate about their respective team. Given the opportunity to influence their favourite team's decisions has made many sports fans go 'ape' for the fan token. The current global fan token market cap is approximately $431 million, further reinforcing the earlier statement.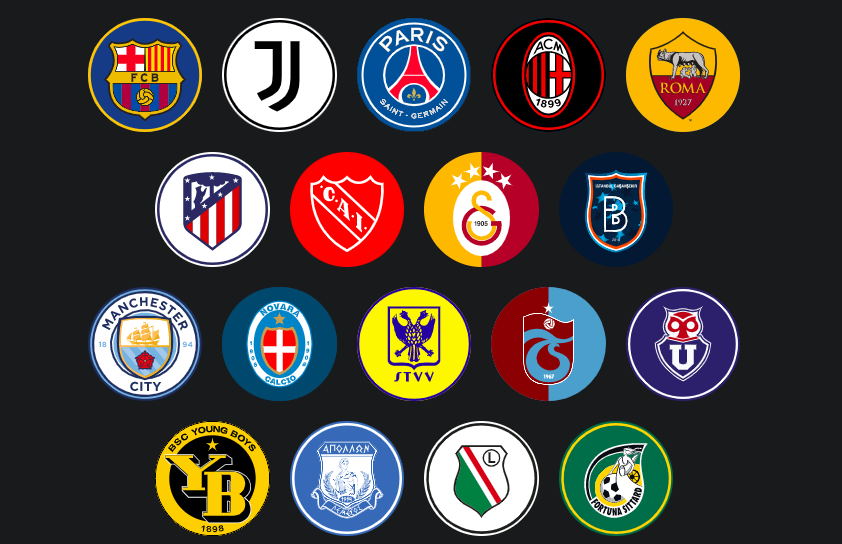 Source: Socios.com. Sports teams partnered with Socios.
To date, the Socios platform has partnered with over 150 sports teams, mainly focusing on football teams. Some notable partnerships include top football clubs such as FC Barcelona, Juventus, PSG, and Manchester City, but also national football clubs like Argentina FC and Portugal FC. The latter two partnerships are massive for the platform as both national teams are captained by undeniably the world's two best football players, Lionel Messi and Cristiano Ronaldo, respectively. With the upcoming FIFA World Cup being their last tournament, many will want either of these superstars to lift the World Cup trophy before they bid their farewells to the game, which may incentivise investments into the fan tokens.
Socios has practically zero competition in this sector at the time of publication. The app has been downloaded over 3 million times on both the App store and Play store. With a first-mover advantage, Socios has signed exclusivity rights with many top-tier teams, which will be a difficult battle for competitors to match. This scenario is very reminiscent of the competing EA Sports' FIFA games and Pro Evolution Soccer (PES), where FIFA held the rights to the majority of teams and consequently became the preferred football video game.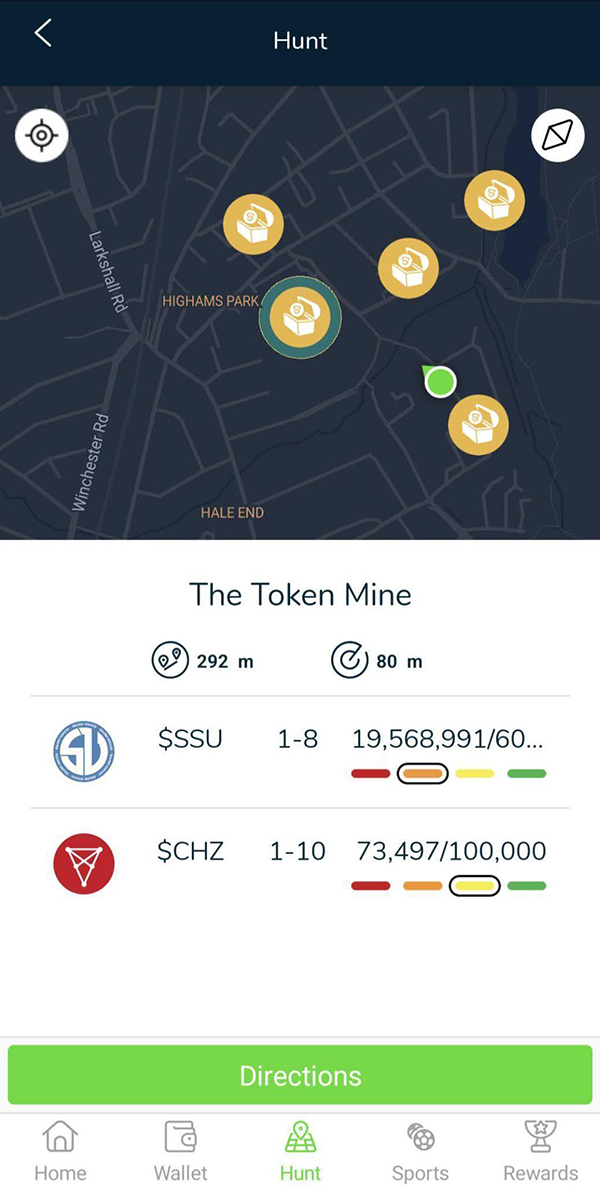 Source: Socios.com. Token Hunt Trail
Speaking of games, the Socios mobile app has a "Token Hunt Trail" game that tracks users' GPS locations, displaying nearby treasure chests on an interactive map. Aspiring hunters have a chance to acquire CHZ and other fan tokens, which is a splendid way to further enhance user interaction and build an active community.
Sporting Club Tokens
Within minutes of making the AC Milan fan token trading pools available, the token trading volume hit $50 million. This novel mechanism is undoubtedly a great way to interact and engage with fans and supporters. However, many fans are blinded by their loyalty to their sports team, which could skew the token economics.
| | | | |
| --- | --- | --- | --- |
| Fan Token | Circulating Supply | Max Supply | Circulating Supply % |
| PSG | 3,111,216 PSG | 20,000,000 | 16% |
| Juventus | 1,315,932 JUV | 20,000,000 | 7% |
| Man City | 3,508,140 CITY | 20,000,000 | 18% |
Data source: CoinMarketCap
As illustrated in the table above, the three highlighted fan tokens have a rather low circulating supply compared to their max supply, with the remaining tokens held by the respective sports teams. This means early investors will have their holdings diluted over time as new supply enters the market. This massively increases the selling pressure and makes investing in these fan tokens very risky and speculative.
Tokenomics
While the fan token economics are not very reassuring, let's assess the tokenomics for CHZ and see if it tells a different story.
The circulating supply of CHZ is currently 6 billion, with the max supply capped at 8.88 billion. At the time of publication, CHZ has a market cap of approximately $1.13 billion and is among the top 50 crypto projects by market cap.

Source: ByteTree. ByteTrend for CHZ with price performance in BTC since September 2021.
As illustrated in the ByteTrend chart above, the CHZ token has been in an accumulation phase through Q1 and Q2 of 2022, followed by a bullish price rally since late July. This price rally coincides with the announcement of the Chiliz mainnet, which is scheduled to take place in either Q3 or Q4 2022. Additionally, Mr Dreyfus tweetedto emphasise that the platform will not rely on Ethereum standards like ERC-20 and ERC-721 solely for long, and they are working on a proprietary solution. The CHZ token is currently outperforming bitcoin, scoring a 5-star on ByteTrend, relative to BTC, since mid-August 2022.

Source: Etherscan. CHZ Token distribution.
What particularly caught my eye when looking into tokenomics was that CHZ has over 149,000 unique holders. However, according to Etherscan, the top 100 holders collectively own 85.47% of the overall supply, making the CHZ a highly centralised asset (mimicking the fan token economics). However, the key difference with CHZ is that it has a higher circulating supply, with 68% of the total supply in circulation. This makes CHZ less volatile when compared to fan tokens.
Conclusion
Giving fans more interaction with the teams they support is a novel idea and one that I can get behind. Chiliz, through the Socios platform, is building value for its investors by continuing to attract new partners to the platform, which is very encouraging for the longevity of the project. Currently, Chiliz has near zero competition, while the fan tokens' $430 million market cap is primarily on the Socios platform. This indicates that the project is off to a great start, with stronger days ahead of it, especially if they tapped into other sports and leagues such as the NBA, NFL, Esports and F1 racing.