Disclaimer: Your capital is at risk. This is not investment advice.
Token Takeaway: XLM Token
In this Token Takeaway, we look at Stellar Lumens (XLM), a blockchain that offers a strong alternative to the current global remittance network by providing fast, secure and inexpensive cross-border payment solutions.
With Bitcoin sinking below $20,000 for the first time since December 2020 and the global crypto market cap being under $920 billion, it is fair to say that we are currently going through a crypto winter. During these periods, researching crypto projects and singling out projects with solid fundamentals will not only aid in understanding the crypto sector as a whole but will help you filter the gems from the get-rich-quick schemes. Our Token Takeaway series exists for that purpose. No project is guaranteed to succeed, but we do our best to highlight the noteworthy ones.
In 2020, over $600 billion of value was transferred cross-border through personal remittances. In most cases, remittances are transfers of money from foreign workers to family members in their home country, sent every month. The typical transaction is usually between $200 to $300, and the average retail cost of these transfers runs between 7-8%.
Now imagine, if Binance charged 7% every time you wanted to withdraw your crypto assets, would you still use it? Unfortunately, these high fees for using Money Transfer Operators are often paid by those who can afford it least, i.e. the 2 billion unbanked adults. The failings of traditional financial systems have highlighted the urgent need for speedy, affordable alternative remittance services to serve these demographics. This is the opportunity for Stellar Lumens.
Overview
Stellar Lumens is a decentralised open-source network for currencies and payments. The network makes it possible to create, send and trade digital representations of all forms of fiat currencies. Stellar Lumens has a native token, Lumen (XLM), which is required in small amounts for initialising accounts and paying for the network's nominal transaction fees.
The Stellar Lumens native layer-1 blockchain was designed specifically to enable all the world's financial systems to work together on a single network. Users of this network can create redeemable and tradable representations of assets in the form of tokens. The network basically provides a toolkit to do what Tether and Circle did for the Dollar with their representation of USDT and USDC, respectively. This makes Stellar Lumens a direct competitor of Ethereum.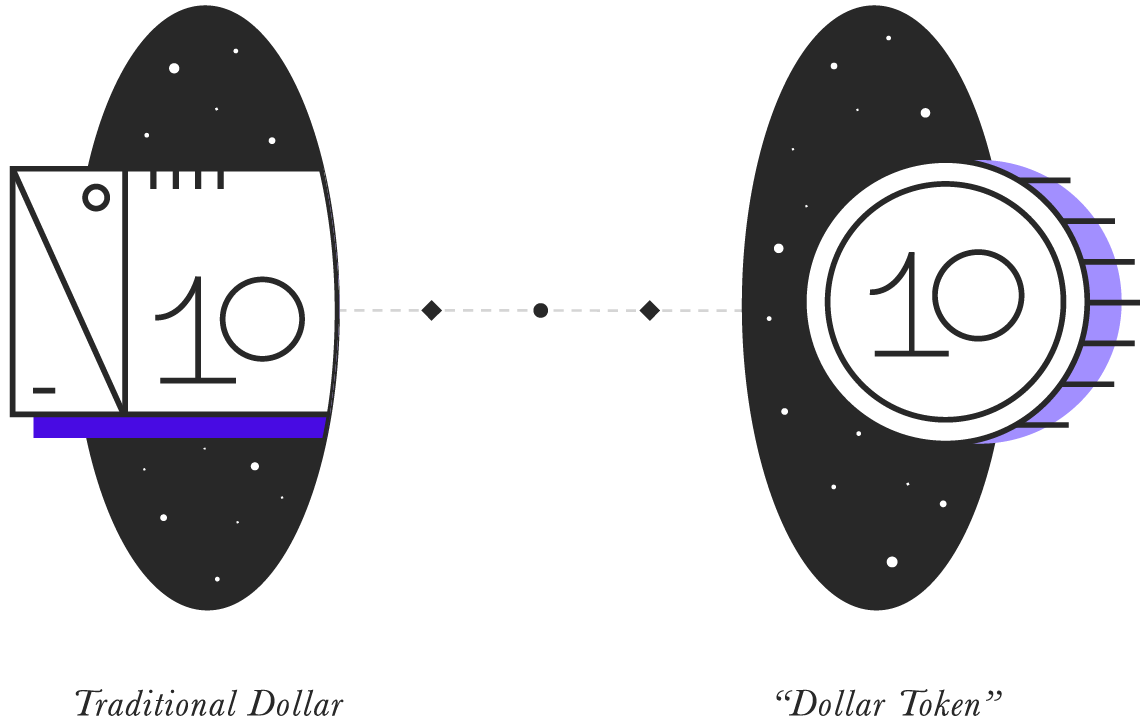 Source: Stellar.org. Traditional Dollar to Dollar Token.
Stellar was co-founded by former lawyer Joyce Kim and Jed McCaleb, founder of the infamous Mt.Gox exchange and co-founder of Ripple. The network developments and growth are managed by the Stellar Development Foundation (SDF), a non-profit organisation founded in 2014. The Foundation employs over 200 employees, and its annual revenue is approximately $30.6 million.
It would be difficult to discuss Stella Lumens' use case scenario without addressing Ripple's XRP. Both payment networks were created by Jed McCaleb and are trying to replace the global remittance network currently offered by traditional financial systems. The two projects share some similarities and are widely seen as competing networks. However, some key differences between the two platforms set them apart.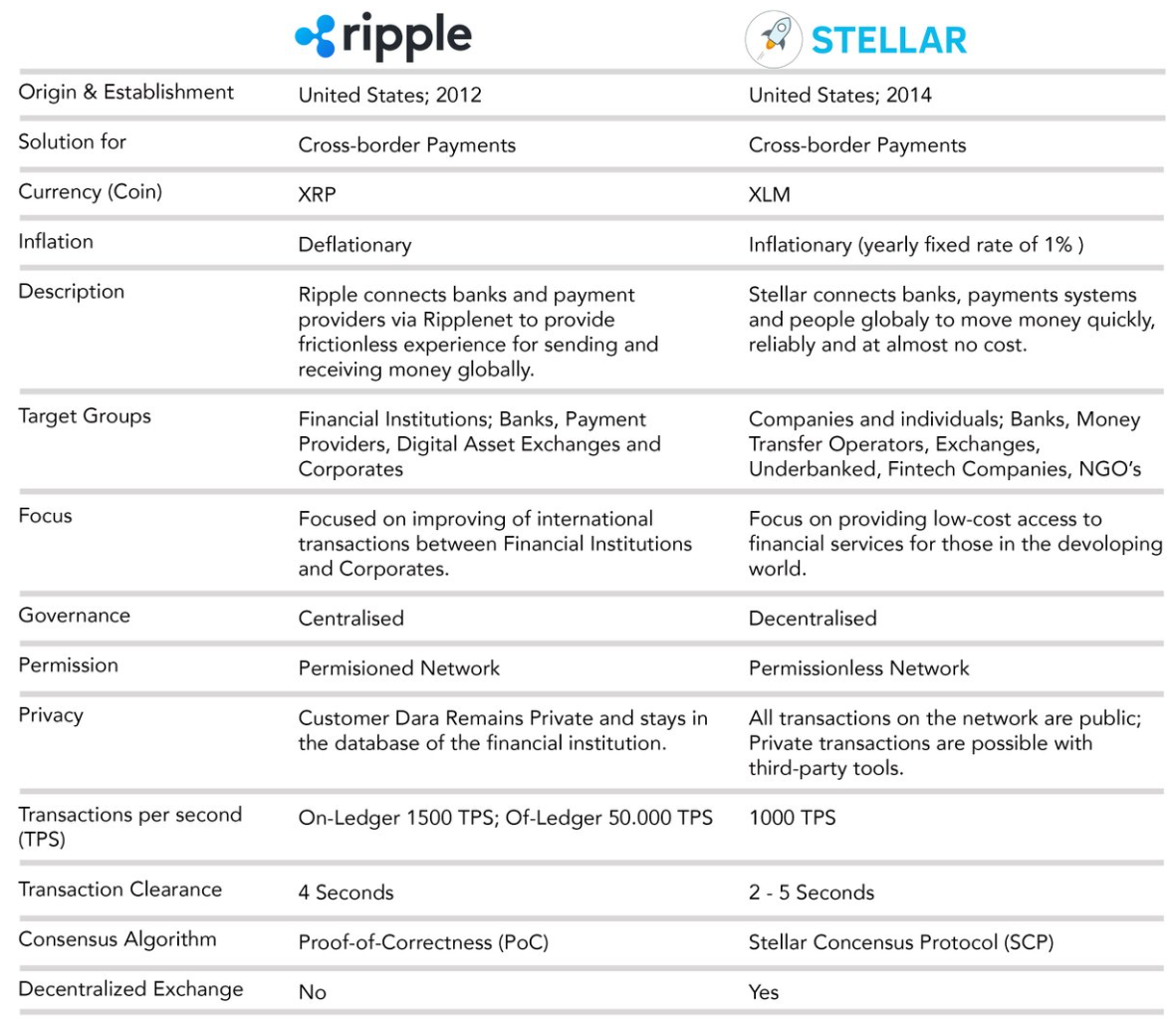 Source: Steemit. Comparison between Ripple and Stellar.
One of the most obvious differences between the two is their consensus algorithms. XRP utilises proof of correctness consensus, while Stellar utilises the Stellar consensus protocol. As illustrated in the above image, Ripple is mostly directed toward financial institutions. Meanwhile, Stellar is focusing on individuals, particularly people from less-developed countries, giving the unbanked the opportunity to interact with the market at a global level. Additionally, Ripple's XRP requires users to receive permission to use their blockchain, making the blockchain a closed system only for banks and financial institutions. However, Stellar is an open-source platform, users can access the blockchain without any permission from the Stellar Development Foundation.
Tokenomics
Unlike Bitcoin or Ethereum, XLM isn't mined or awarded by the protocol. Instead, 100 billion XLM were minted during the launch of the Stellar network. For the first five years of the network's existence, the supply of lumens also increased by 1% annually. This inflation mechanism was brought to an end by a community vote in October 2019. By November 2019, the overall Lumen supply was reduced to 50 billion XLM.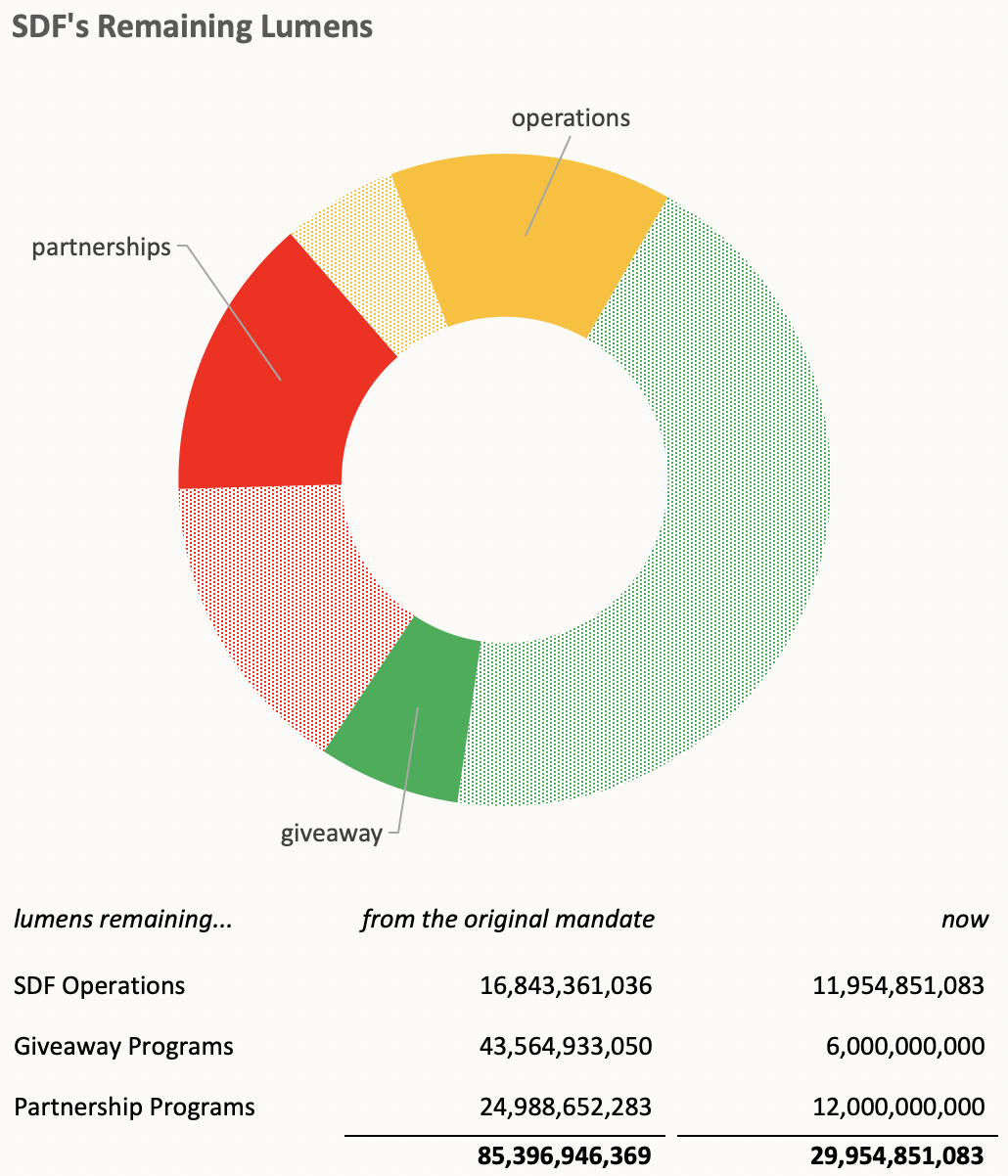 Source: Stellar.org. Stellar Development Foundation Lumen token holdings in 2019.
In 2019, the Stellar Development Foundation held almost 30 billion XLM. The Stellar Development Foundation retains these XLM to develop and promote the Stellar network per its mandate. The Foundation has sold almost 5 billion XLM since 2019, bringing the circulating supply of XLM to 25 billion. This has undoubtedly increased the selling pressure and can be attributed to the reason why XLM's price performance in the recent months has been less than stellar (no pun intended).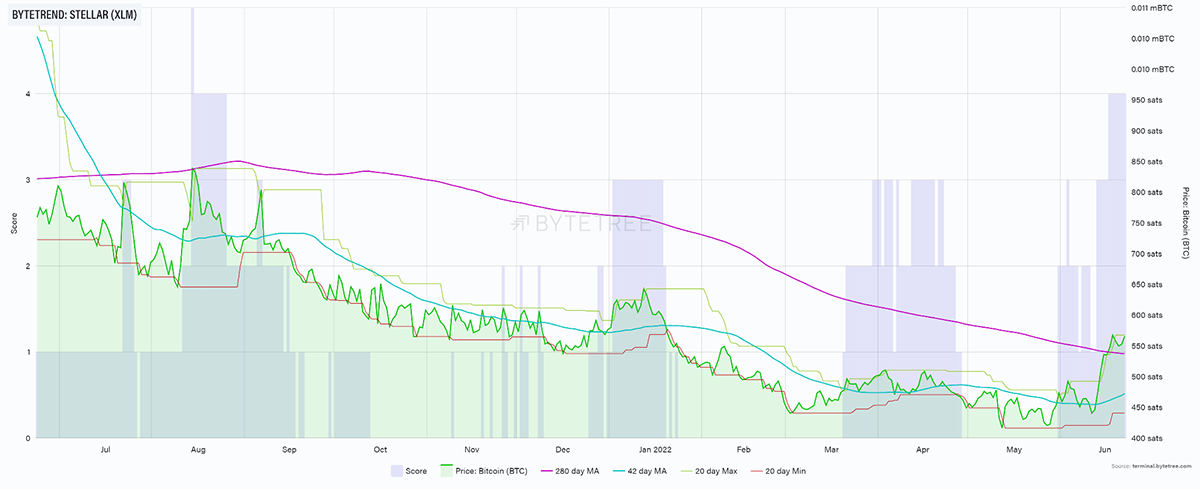 Source: ByteTree. ByteTrend for XLM with price performance in BTC since June 2021.
Another reason the XLM price performance has been mediocre is that the demand for XLM within the network is fairly low. Only 1 XLM is needed to activate wallets, and the transaction fees within the network are almost negligible (0.00001 XLM). With one XLM valued at approximately $0.1178 at the time of this writing, the transaction fee is $0.000001178. Additionally, a lot of users utilise XLM to transfer funds across borders. Once the transaction is sent to the intended receiver, the funds are usually converted into fiat currency or a stablecoin.
At the time of publication, XLM is trading at $0.1178, with a market cap of approximately $2.94 billion.
Noteworthy News
In May 2022, MoneyGram International, one of the world's largest cross-border transfer services with a market cap of over $950 million, announced its partnership with the Stellar blockchain to create a stablecoin-based platform for money transfers. The service will allow Stellar wallet users to send USDC to recipients, who will be able to cash them out for fiat currency through the MoneyGram network. This deal is undoubtedly a key partnership for Stellar as MoneyGram had a previous deal with Ripple Labs, which was severed in March 2021, shortly after the United States Securities and Exchange Commission filed a lawsuit against Ripple. Kudos to the team at Stellar for securing this deal.
In October 2021, Stellar Development Foundation (SDF) announced its partnership with Flutterwave, a global payments technology company. The partnership launched two new remittance corridors between Europe and Africa on the Stellar network, with the aim to simplify remittances in Africa. This partnership will greatly benefit local businesses and individuals by providing efficient and cost-effective remittance services in the Pan-African digital payments infrastructure.
Also announced in October 2021, the Stellar Development Foundation made a $40m investment in Tala. This fintech company aims to provide the unbanked access to financial services that they would not have via traditional means. Tala currently operates in Kenya, Mexico, India and the Philippines. Since launching in 2014, Tala has delivered more than $2.7 billion in credit to more than six million customers across emerging markets.
Conclusion
The problem with most crypto projects is that users are unwilling to spend their tokens due to the chance the asset may appreciate over time. However, with Stellar Lumens, I see XLM as less of an investment and more as a currency that I would be happy to use for my day-to-day expenses. That said, there is no doubt in my mind that Stellar Lumen is an interesting project with a strong real-world use case scenario, the technology is undeniably revolutionary in terms of remittances, and I can see this project replacing XRP in future as the leading cross-border payment solution.
Banner image: Frontpage of Stellar.org