token-takeaway
Gala Games: A Contender in the Blockchain Gaming Industry?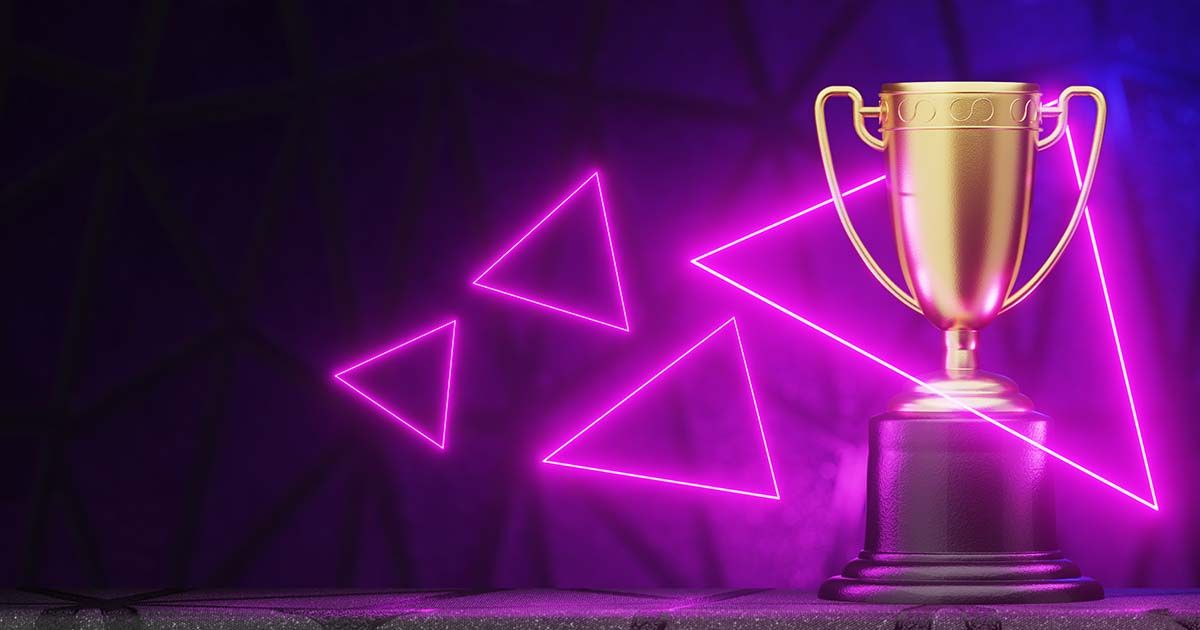 Disclaimer: Your capital is at risk. This is not investment advice.
Token Takeaway: GALA Token
The blockchain gaming industry saw meteoric growth in 2021, with Gala Games as one of the top performers. Gala Games is a decentralised video game distribution service, a blockchain equivalent of Steam. Will it continue to be a contender in this rapidly growing and hugely significant blockchain sector?
According to DappRadar, 49% of the entire blockchain industry's usage originated from the gaming sector. More than 1.4 million unique active wallets connected daily to blockchain games, making it the most used sector, ahead of DeFi. In 2021 the blockchain gaming activity grew a staggering 4,330% year on year.
The global gaming industry is estimated to reach 3 billion players by 2023, while the market is expected to reach a value of $339.95 billion by 2027. Although the blockchain gaming sector remains small by comparison, it's already clear that it will have a key part to play in metaverse projects. Axie Infinity led the charge in 2021, but there is still plenty of room for new blockbusters. This is the opportunity for Gala Games.
The Ecosystem
Gala Games has done things differently from the start. Its core missionis to empower users by building a truly decentralised blockchain games network. This allows Gala community members to own nodes while also having more ownership through NFTs and on-chain governance.
The platform, which also has a partnership with Polygon, was originally built on Ethereum but later migrated to the Binance Smart Chainto reduce gas fees. In February 2022, they announced that they're building their own blockchain to fit their needs, which I'll cover further below.
The ecosystem is run by player-owned Founder's Nodes where operators are rewarded with GALA tokens (point-based system) and NFT airdrops. Operators also have consensus votes, empowering them to make decisions on future developments.
There will only ever be 50,000 nodes, while more than half have already been claimed. Their pricing structure increases the price of a node by $100 for every 100 nodes sold. It currently costs approximately 385,000 GALA to purchase a node, roughly $97k at GALA's current price.
In a Medium article, Gala Games has made it clear that a Founder's Node is not an investment. Instead, the node is a contribution to financially supporting the network, while it is also a commitment and responsibility to the ecosystem. Staying true to their core mission, they are building a community of dedicated supporters, which undoubtedly will be vital for future success.
The Gala platform lists ten games on their website, but only two games (Town Star and Spider Tanks) are currently playable while the others are either in development or pending a node vote.
Currently, most play-to-earn games provide monetary incentives, but that alone cannot retain players as the gameplay gets quite repetitive and mundane, as proven by Axie Infinity. Their tagline "Making blockchain games you'll actually want to play" and "games first, blockchain second" mantra may well play to their advantage here. To date, their most promising game in development is Mirandus, which is still awaiting an official release date.
Tokenomics
The GALA token was launched on 18 September 2020 and is now the 61stlargest cryptocurrency by market cap (approximately $1.7 billion), overtaking other popular NFT-centric crypto projects such as Chiliz, Enjin and Immutable X.
GALA is the fuel that runs the Gala Games network. Using GALA, community members can purchase Founder's Nodes licences, create, play, own and trade within the gaming platform. Meanwhile, the in-game items and NFTs are non-refundable ERC 721 or ERC1155 utility tokens, which serve as verifiable proof of ownership.
According to the BGA blockchain game report, the GALA token price increased over 31,500% in 2021, making it one of the best-performing assets across the whole industry.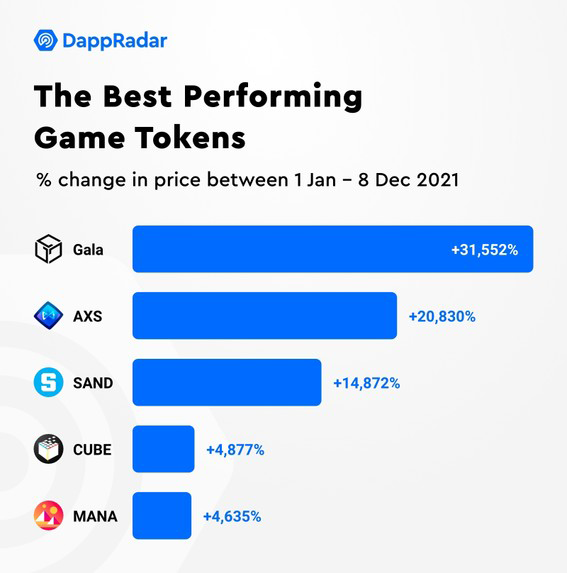 Source: DappRadar. Best performing game tokens of 2021.
In the ByteTrend chart below, we can see that GALA hit its all-time high of $0.74 in November 2021, no doubt fuelled by Facebook's "Meta" announcement. The bullish run continued to mid-December, where it cooled, keeping at a level pace ever since.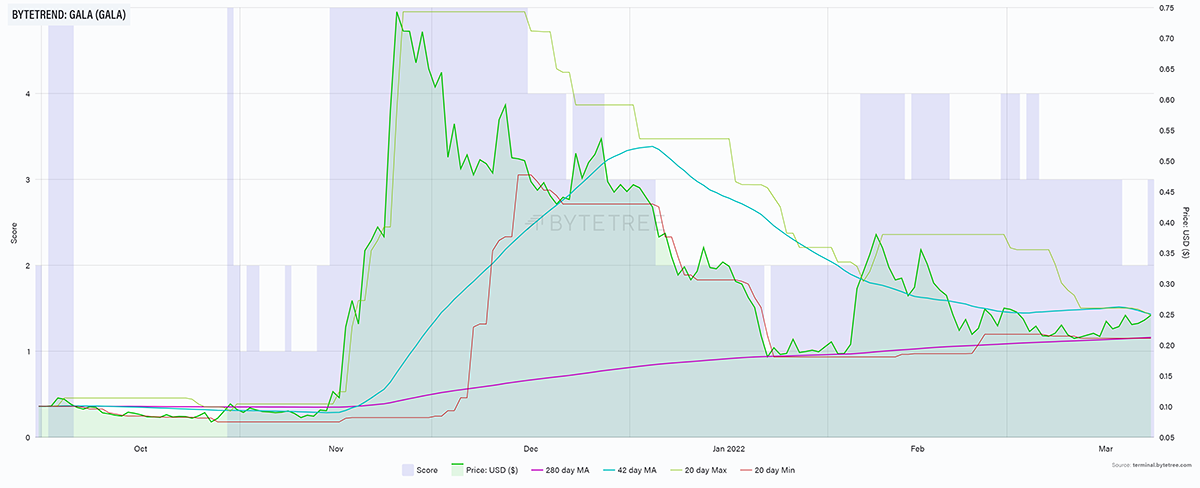 Source: ByteTrend. GALA price performance since October 2021, overlayed with moving averages and max/min lines.
According to their tokenomics page, the approximate total supply is 50 billion GALA, out of which 7.5 billion tokensare currently in circulation. Operating on an annual halving schedule, the distribution amount of GALA is cut by half in July. 12.5 billion GALA will be distributed within the 2021/22 cycle, with the halving schedule continuing until the emissions hit the total supply.
Half of the newly minted GALA tokens are distributed to dedicated node operators, while the rest is distributed to the Gala Games Conservatorship. The conservatorship can be seen as the community's treasury that is used to support the development of games within the Gala ecosystem.
Project GYRI - The Scalability Solution
While competitors such as The Sandbox and Decentraland have solely relied on the integration of Polygon as a layer-2 scalability solution, Gala Games has taken the initiative by developing its own proprietary games-first blockchain to tackle scalability. In February 2022, Gala Games announced plans to integrate a new blockchain to power the entire Gala Ecosystem.
Project GYRI, as it's currently named, is now in the final stages of the community-wide test program. Built to fit the specific needs of Gala Games, the blockchain will "increase efficiency, reduce environmental impact, and lower both cost and time of transactions". How Project GYRI will fair against layer-2 scaling solutions like Polygon is yet to be determined.
A successful launch of Project GYRI may well be the catalyst for renewed investor interest in the GALA token.
The Zynga Pedigree - Gala Game's Team
Gala Games was co-founded by Eric Schiermeyer and Michael McCarthy. Schiermeyer, the CEO of Gala Games, was also a co-founder of Zynga and former CTO of Intermix Media, the company behind Myspace. Under his leadership at Zynga, the free-to-play online games platform attracted over 30 million active players.
McCarthy is the President of Games at Gala Games and was the former Creative Director at Zynga and the creator of Farmville 2. The sequel to Farmville had 43.5 million monthly active gamers at its peak.
Gala Games has a fully remote team with over 200 highly experienced employees. Gala Games has been growing rapidly, with much of their talent coming from big gaming studios such as Namco Bandai, Electronic Arts and Activision Blizzard, to name a few.
Gala Games is well-positioned with a talented team and directors with a proven track record of publishing high calibre games. This will be a key factor in the retention of this high-quality pool of talent and for the longevity of games being published on the Gala ecosystem.
In-House Funding
Gala Games has received no VC funding of any kind, nor was there an ICO for the native GALA token. Although they received some funding when integrating with Binance, Gala Games drew its initial funding from building a strong supporter base by selling Founder's Nodes. Additional revenue is currently generated by selling NFTs for its current and upcoming blockchain games published on the Gala store.

Source: Gala Games. Gala Games ecosystem milestones.
According to their website, the Gala ecosystem boasts an impressive 1.3 million monthly active users and 26,000 NFTs have been sold collectively, with the most expensive NFT selling for US$3m. With the majority of the ecosystem relying on Ethereum, which is currently plagued with high gas fees and transaction delays, it is remarkable that Gala Games has been able to achieve these milestones. With its own proprietary blockchain in the works, it is only logical to assume that this is just the start.
Development Grants
At the Gala Verse event in December 2021, Gala Games announced that they were launching a $100 million blockchain gaming fundin partnership with C² Ventures. The joint fund will invest in game developers and emerging projects building with blockchain technology, including play-to-earn, Game Fi, metaverse projects, and other decentralised gaming solutions.
In February of this year, Gala Games announced it will allocate $5 billionto further its plans for their growing ecosystem. Out of the $5 billion allocated to Gala Games expansion, $2 billion is expected to go to gaming, while a further $1 billion will be allocated for the studio's music ambitions, movies and theme park NFTs, respectively. These funds will undoubtedly attract top talent in the entertainment industry, serving as the core foundation in creating genre-defining masterpieces.
Conclusion
The unique ecosystem strategy adopted by Gala Games will most likely contribute to the long-term success of this crypto project. Rather than focusing on a particular gaming title like its direct competitors, Gala Games has opted to cater to a larger audience by offering a variety of games on their platform. This is a smart choice as this enables Gala Games to set itself apart from others by providing not only a gaming service but also a digital distribution service. Gala Games is still in its early stages and has a long way to go. However, it has the potential to become one of the most prominent cryptocurrency ventures in the blockchain gaming industry.
---
If you have any questions or comments on this insight, please contact us by email.
The qualitative analysis produced in our Token Takeaway series is one of the building blocks for our crypto model portfolio. ByteFolio is included in our Premium membership - read the introduction.
For a Premium trial month, or $37 dollars off the annual subscription, add PREMIUMTRIAL to the promotional code field at checkout. You can cancel any time in your account settings.