atomic
Bitcoin Is Getting Ready to Move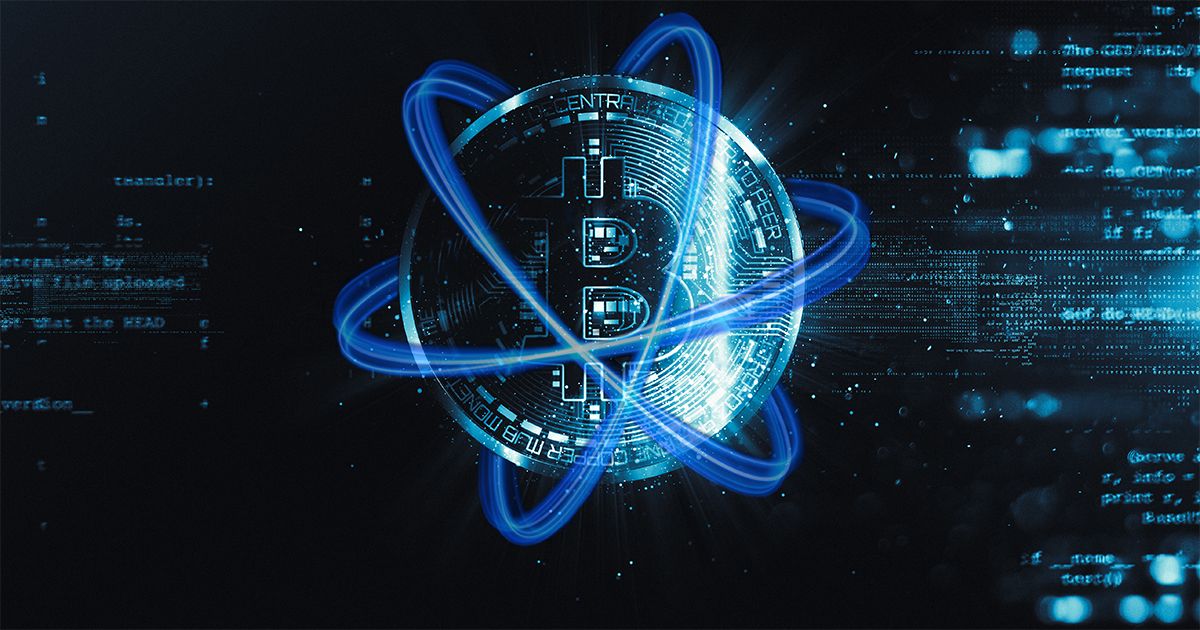 Disclaimer: Your capital is at risk. This is not investment advice.
ATOMIC 41
Right now, another $800 million per month from institutional investors would squeeze the market higher. This is doable. If the institutions finally do the right thing and allocate a small portion of their client's capital to assets that will remain relevant in the 21st century, then we're off.
BYTETREE ATOMIC
Analysis of Technical, On-chain, Macro, Investment Flows and Crypto.

Highlights
| | |
| --- | --- |
| Technicals | ETH looks good |
| On-chain | Mildly positive |
| Investment Flows | Funds BTC holdings new record |
| Macro | Inflation and rates still surging |
| Crypto | Ape Culture |
---

---
Technical
The ByteTrend star count for the top 15 tokens has jumped from 18 to 27 over the past week. This is still on the slow side, but the improvement is constructive, especially as risk assets in general seem to be underpinned following a weak start to the year.
If all 15 coins had a 5-star trend, that would be 75 stars, which would reflect the max bullish technical conditions. This will be available in a historical chart in due course.
Bitcoin holds 3/5

Source: ByteTrend. Bitcoin measured in USD with 20-day max and min lines, 42-day and 280-day moving averages past year.
You might have noticed the Bytetree Crypto Average (BCA), a daily average score, which I will cover in more detail. In a nutshell, it is the return of the average crypto that ByteTrend covers in USD terms. Its purpose is to be a hard-to-beat measure during strong markets. BCA is currently 2/5 in USD, which is much better than the 0/5 seen in February.

Source: ByteTrend. BCA with 20-day max and min lines, 42-day and 280-day moving averages past year.
BCA is calculated from the average daily move of around 100 coins. Imagine a crypto surge like in February 2021. Most tokens would be 5/5 in USD and the majority 5/5 in BTC. Back then, only a few would be 5/5 in ETH, but next time, ETH will be part of the establishment, and many more will score highly against it.
Under these conditions, BCA will be hard to beat because it will capture so much of the success in the space. We could use a cap-weighted index, but these will be 2/3rds BTC and ETH, so not that useful for this trend measurement exercise.
You might have picked up on this piece from last week, which demonstrated how buying ETH when it touches 4/5 in BTC has outperformed holding BTC by 209% since Jan 2020. That means rather than gaining 6x by holding BTC over the period, you'd get closer to 20x. That signal reappeared overnight. No time like the present!

Source: ByteTrend. ETH measured in BTC with 20-day max and min lines, 42-day and 280-day moving averages past year.
On-chain
It is always a pleasure to see the transaction count rise, which unsurprisingly still correlates extremely closely with price. This is a classic network effect; the more people use bitcoin, the more valuable it becomes. I would like to see a breakout here.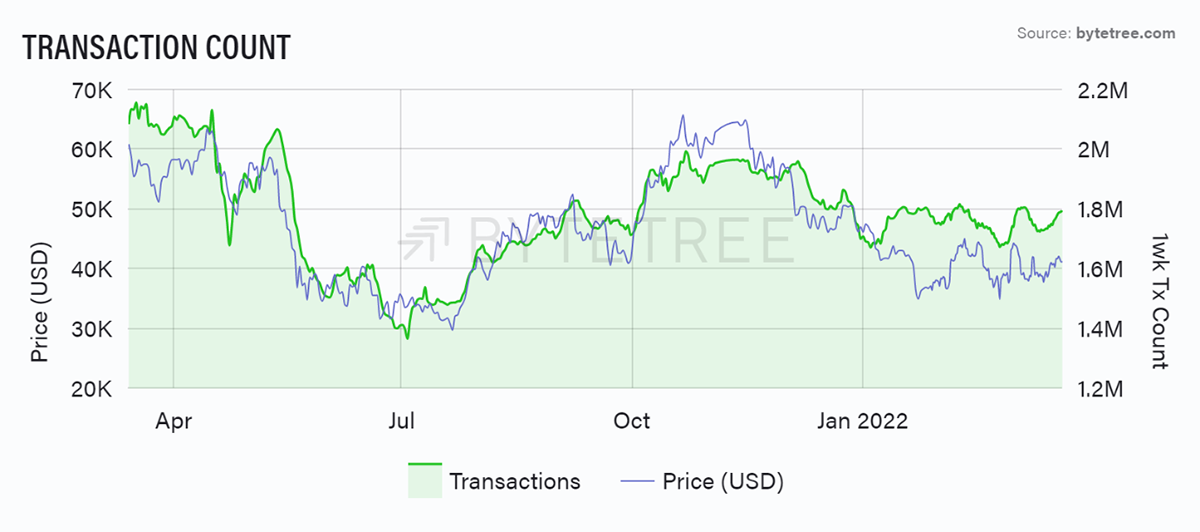 Source: ByteTree. Bitcoin transaction count and price (USD) over the past year.
Investment flows
The funds are back at an all-time high, which is delightful.

Source: ByteTree. Bitcoin held by funds over the past six months.
But bitcoin still has a net "institutional" deficit of 20,000 BTC per month, over the quantity mined. I know this has found a home because if it hadn't, the price would be falling. Just recall what happened to the price whenever this went into surplus.
Right now, another $800 million per month from institutional investors would squeeze the market higher. This is doable. If the institutions finally do the right thing and allocate a small portion of their client's capital to assets that will remain relevant in the 21stcentury, then we're off.

Source: ByteTree. Bitcoin fund inflows (less miner selling) and price since July 2020.
Macro
I'm surprisingly bullish on crypto in contrast to my views on mainstream assets, which are more cautious. It is simple. The old world has been over-egged, while this new world is yet to be discovered by the big money. When you are sure the big money will eventually come, it is just a matter of when not if.
It will. I have long said that bitcoin sits in the top right quadrant in this macroeconomic model. That means bitcoin has historically performed well when both bond yields and inflation have been rising.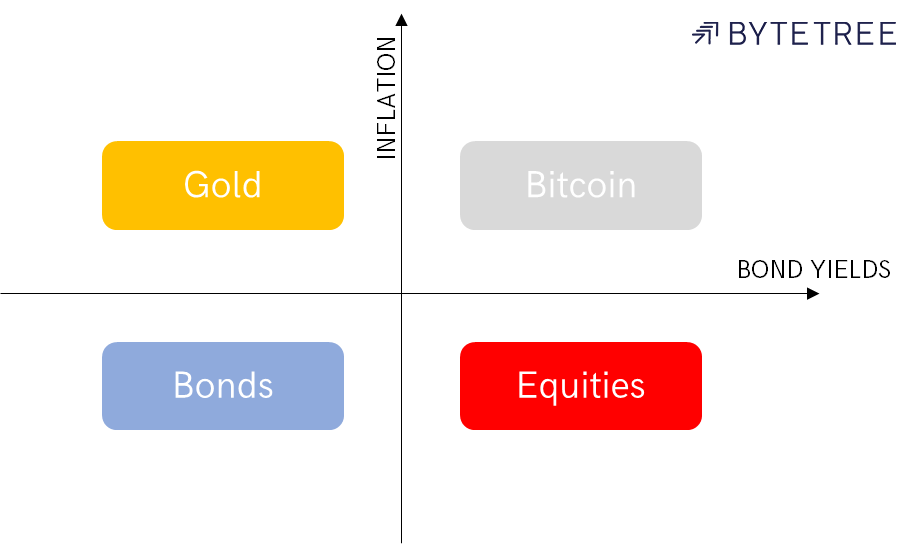 When you add inflation and bond yields together, I call that "the curve". Below shows the two-year curve against bitcoin, which has a good fit. When the curve was falling, bitcoin tended to struggle, and when rising, it tended to do well. These macro relationships are imperfect, but the point is clear. This is bitcoin's time.
Bitcoin and the curve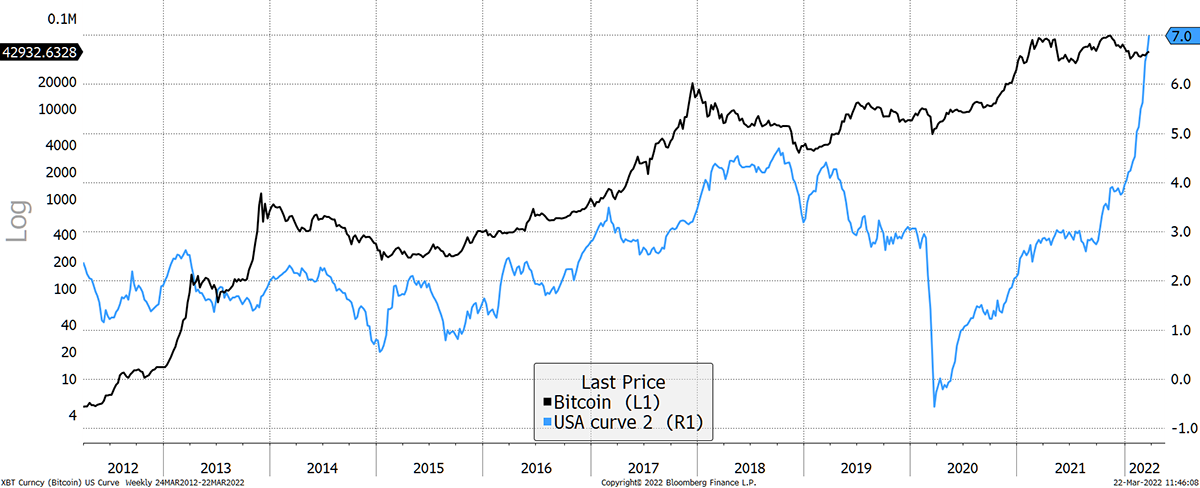 Source: Bloomberg. Bitcoin and the 2-year curve (rates and breakeven) since 2012.
Cryptonomy
In our journey from apes to sapiens, our expression of culture has evolved many times. With the dawn of web3, the cultural impact of blockchain technology is truly profound. We may not know where it takes us, but the possibilities are endless.
Less than a year ago, Bored Apes took the NFT world by storm and now the members of the exclusive club are back as the ApeCoin (APE) launched last week. While it is the ApeCoin DAO (Decentralised Autonomous Organisation) and not Yuga Labs (the team behind Bored Ape Yacht Club NFTs) which is credited for the new token, Yuga Labs will list APE "as the primary token for all new products and services ".
If you were wondering why there is a sudden need for a new token, you need to look no further than the title of the project's "about" page: "ApeCoin is for the web3 economy". As an ERC-20 governance and utility token, APE is built to empower participants in the ecosystem, bringing a shared and open currency to its users. As well as giving token holders access to exclusive content, it also serves as an incentive to third-party developers to incorporate the token into their games and services.
Holding ApeCoin will enrol you into an ApeCoin DAO membership, which includes voting rights on the Ecosystem Fund allocations, governance rules, projects, partnerships, etc. ApeCoin has a capped supply of 1 billion tokens, of which 62% went to the Ecosystem Fund, 16% to Yuga Labs (who donated 6.25% to the Jane Goodall Legacy Foundation), 14% to the project's launch contributors and 8% to BAYC founders. BAYC/MAYC NFT holders were also given some free APE tokens, out of which 85% of the 150m tokens have already been claimed. If you didn't make the list for free tokens, major crypto exchanges were quick to list APE the day after the announcement.
One of those exchanges was FTX, which also has been making headlines this month. Last week, they were granted a licence to operate within the United Arab Emirates, while a couple of weeks ago, they announced a European expansion after receiving approval from the financial regulator in Cyprus. It seems Europe wasn't the only continent on the list, as news broke of FTX acquiring an unnamed company with an Australian Financial Services Licence. By establishing a domestic foothold in Australia, FTX hopes to "get ahead of the regulatory curve" and work with regulators to build a robust crypto ecosystem.
Summary
With a bit of luck, bitcoin will soon go ape.
---
Your feedback helps the team to build the best service we possibly can. Have no shame in making suggestions and if you do not understand something, then please ask.
The latest ATOMIC updates are included in our Premium membership
Subscribe to Premium or Learn more.
Premium subscribers get regular analysis updates on all things crypto, access to our model portfolio, ByteFolio, and full access to all data on the ByteTree Terminal.
For a trial month, or $37 dollars off the annual subscription, add PREMIUMTRIAL to the promotional code field at checkout. You can cancel any time in your account settings.