Disclaimer: Your capital is at risk. This is not investment advice.
Token Takeaway: The Cudos Network
This week, I will introduce readers to one of the more practical projects in the digital asset space, the Cudos Network. While this insight will lay the basis for the project, I will analyse the CUDOS token and provide the Token Takeaway Conviction Score next week. Be aware that a project might be fantastic, but the utility of its native token is just as important, if not more.
The Cudos Network is a combination of two solutions: its cloud computing solutions and its Turing-blockchain. Ultimately, merging cloud services and blockchain might be the titan needed to disrupt the expensive and centralised alternatives, like Amazon Web services, Microsoft Azure, or Google Cloud, which collectively generated over $25bn in 2021 revenue.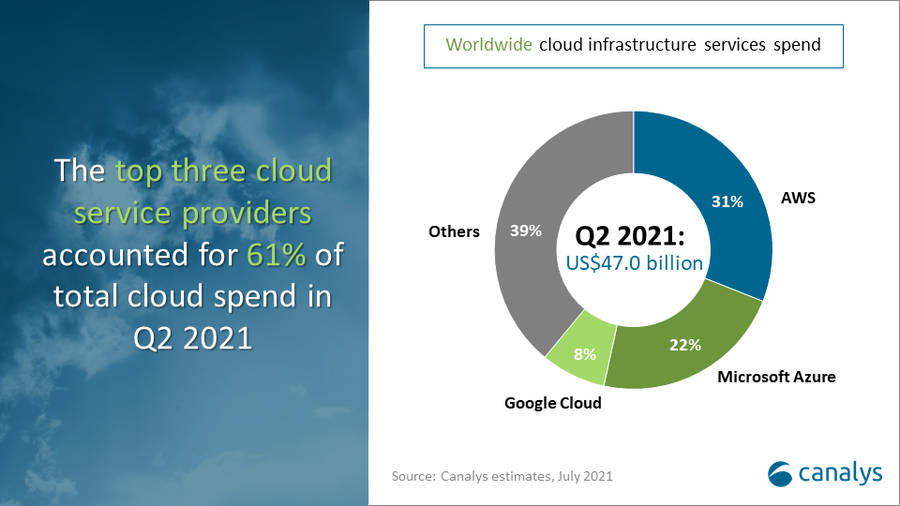 Source: Canalys. Infographic Showing the Monopoly in the Cloud Services Industry.
The Cudos team have identified the issue with cloud computing, its dominance and monopoly, via a few extremely powerful congregates. Amazon dominates 50%* of the sectors market share, Microsoft has 15%* and Google 5%*. This monopoly creates an unideal market for consumers, which is expensive, experiences data loss/theft, insecure security, and technology vulnerabilities.
(*Numbers are rounded estimates based on Kinsta.com)
Typically, hardware in the form of a power-hungry and inefficient data centre supplements these needs – at the cost of the planet. I mention ESG because readers should understand that delivering any digital service requires memory, storage, processing power, and network connectivity at the very least. Cloud computing alleviates the need for individual company hardware and offers a more efficient approach in the form of a singular centre that serves many instead of one.
That said, Cloud computing is by no means a dud and has already positively changed the way many businesses/companies have streamlined, cut hardware costs, and overall improved their operations. In 2019, 90% of companies were on the cloud - likely surprising for many readers.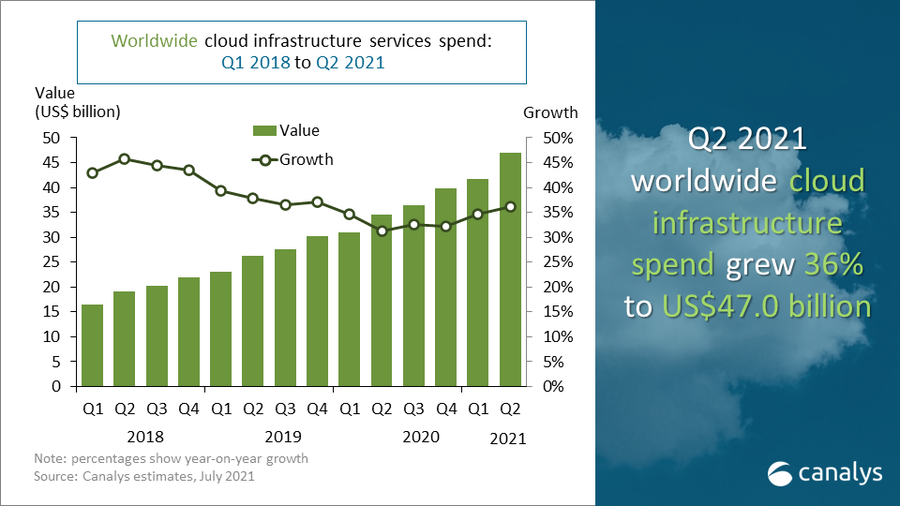 Source: Canalys. Growth and Value of the Cloud Computing Services Industry.
However, Canalys reported that cloud expenditure grew by over $12 billion since Q2 2020, due to the growing need for offsite computing solutions with an increasingly decentralised workforce.
In terms of ESG and sustainability, Canalys Research Analyst, Blake Murray, acknowledges the issues growing with gigaton data servers and the environmental impact these centres can have, but added that:
"… the leading providers are also at the forefront of environmental resiliency efforts"
How Can Cloud Computing Penetrate the Crypto-Sphere?
As we know, the digital asset ecosystem is building an alternative, open-source, globally accessible and consumer-focused economy. Why shouldn't cloud computing be a part of the numerous sectors that crypto is disrupting? The monopoly of traditional cloud services makes the sector a prime candidate to be subject to the crypto ethos: giving power to the consumer.
The Cudos Network works alongside Cudo, a company created in 2017 by its current CEO, Matt Hawkins, after he created and sold C4L, one of the biggest cloud services providers in the UK. Hawkins has impressive credentials, which investors should view as a big positive.
Cudo's goal is to connect blockchains and their consumers with the power/utility that can come from having access to idle computing resources (suppliers). The Network could be likened to a layer-3 protocol due to its ability to receive a workload request from a blockchain, then run that workload in a decentralised way by using dispersed capacity in underutilised companies, data centres, and so on. All while doing this at low latency and in a cost-effective manner.
Does it have the Contacts?
But how can Cudo scale to meet the future needs of high-intensity blockchains through unutilised capacity in laptops and phones? The answer lies with the team and their experience behind the scenes. Cudo Ventures is the subsidiary behind CUDOS. As a team, they have over 16 years of experience in the cloud service industry.
To be successful, Cudo needs a contact network of reliable data centres, memory and processing power avenues. These will make it a scalable and large enough network to hold the capacity needed to disrupt traditional competitors. The team has consolidated an extensive network of industry contacts, including several enterprises and service providers, into the vision – a major positive for the future of Cudo.
The Turing-level of The Cudos Network is not yet readily available, so the prospective investor should keep up-to-date with this. However, this does not mean Cudo is simply a concept. Cudo Miner is a live platform that automates crypto-mining, reduces manual configuration, and eliminates the need to own physical mining hardware, thereby proving the concept of Cudo's Turing-layer technology.
The Competition is Fierce
Although Cudo has the team, it does lack funding. Since launching, Cudo Ventures have raised a total of $12m. This may seem like a valiant amount in general terms, but Cudo has a lot of work to do relative to the competition. With a market cap of $90m, the CUDOS token is the smallest of the pack, making it a highly risky (high reward) platform.
Most notably, Cudo has to compete with the Winklevoss twins and their distributed storage system, Filecoin, which is worth $5.2bn. Furthermore, other competitors include iExec, with a market cap of $220m, and Ankr, which has a market cap of $1bn. An investor might see the CUDOS token as a different play when considering the success and stature of the cloud services crypto industry. While ranked at nearly 500th (by market cap), CUDOS has room to grow but needs consistent developments and success to achieve its potential.
Conclusion
The blockchain and cloud computing sectors have a great synergy, both working for accessibility and ease. Merging the two is truly genius, especially when considering how Amazon Web Services dominates the traditional sector.
The team behind Cudo is fantastic, albeit perhaps not as experienced in crypto, and will be nothing but positive for the future of the CUDOS token. However, to be frank, it has a long journey ahead of itself, with the likes of Filecoin, iExec and other competitors drowning out the small fry.
Lastly, a change of investment strategy would certainly include CUDOS as a small-cap, hyper-growth potential category. It is different from my usual style of picking the winners but worth evaluating. Hawkins (CEO) is a game-changer as well. Having created C4L and sold it to start Cudo, his confidence looks very positive for the CUDOS project.
Tune in next week for an analysis of the CUDOS token, the Token Takeaway conviction score, and perhaps a short Q&A transcript between myself and the CUDOS team.