Disclaimer: Your capital is at risk. This is not investment advice.
Token Takeaway: CUDOS Token
Last week, we introduced readers to the broader Cudos ecosystem. In particular, we covered the inefficiencies of cloud computing and whether the Cudos team had the vision and experience to disrupt a traditional monopolistic sector. This week, we are focusing on the $CUDOS token, and we even managed to get on a video call with the Cudos team.
For the first time in Token Takeaway's history, I managed to talk to the team behind a project. Anyone I've spoken to about Cudos has had good things to say about the team, and I can now second that. I asked four main questions:
With centralised alternatives like AWS, AZURE and Google Cloud having monopolies, what makes Cudos their likely successor?
Regulation is not going to stop the cloud services monopoly in the traditional world. In their eyes, decentralisation is the key to breaking AWS and Microsoft's cloud market monopoly.
The recent AWS outage was highlighted as a pointer on why we need this decentralised alternative.
The parties above made $25bn in 2021 revenue. Can Cudos reach these amounts?
In a future that recognises not just profits but the health of the environment and values decentralisation, this is a possibility. When both the demand and supply sides recognise the need for scalable and cost-effective computing solutions, which is bound to happen soon, Cudos will be the go-to cloud network.
Can you highlight why Cudos helps with the ESG side of cloud services, or if it will at all?
"Essentially, Google generates as much CO2 per year as approximately 1,200,000 cars. This happens to be more than all newly registered vehicles in the UK per quarter."
Staggering stuff, plus that figure does not consider the impact of data centre construction or manufacturing of devices. Although the ideology of cloud services should warrant positive impacts on the environment, the reality is much bleaker.
The team showed me that CUDOS is there to utilise the other 50% of the time that global electronics spend idle, wasting away potential power, which is being actualised by corporations having to build more data centres inefficiently.
What can a consumer benefit from by using Cudos? Do you have any numbers to hand on how much they would save, etc.?
100% carbon neutral layer-1 proof-of-stake blockchain network supporting ~1000 TPS.
Transaction costs over 1000x less than Ethereum & up to 30x less than BSC
2.2 million times more efficient than Ethereum
Up to 10x saving compared with Hyperscale providers
Big numbers that all look good. But remember, the mainnet is not released yet, so they are largely speculative assumptions. Although the 10x savings compared to Hyperscale providers (e.g. AWS) is the most convincing stat.
The investment case for CUDOS
The CUDOS token is a utility token, similar to SOL, DOT and BNB, and is paramount for every transaction on the Cudos blockchain. Tokens can also be staked to perform jobs for idle computing or to secure the blockchain, which provides incentive to investors. This is important because it gives CUDOS the most valuable type of on-chain utility.
$CUDOS token - Technicals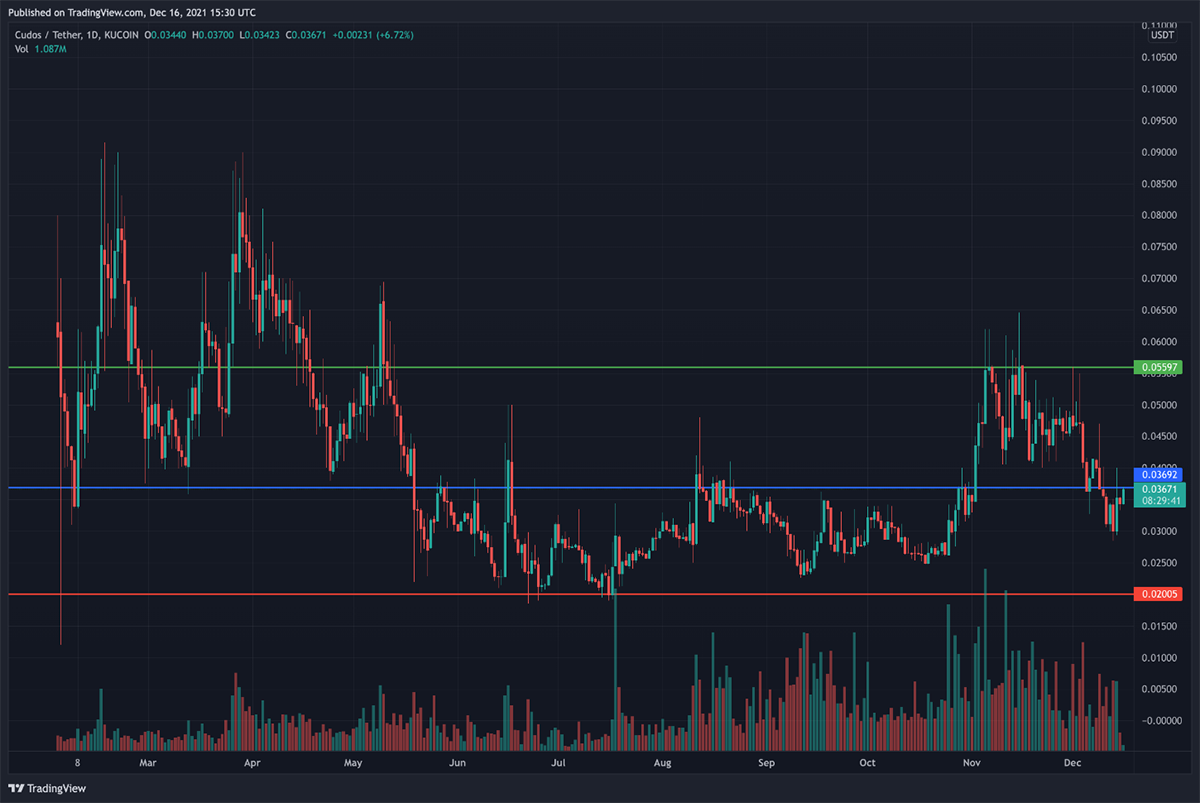 Source: TradingView. Historical Price Chart For $CUDOS.
CUDOS currently side in the mid-range, where $0.04 has been a key resistance line this year. While CUDOS didn't break above the line in June and August, the breakout moment finally came in November. However, we have retracted back to the $0.04 level since. CUDOS needs a catalyst to experience a prolonged stint in the upper range; otherwise, we could see CUDOS drop down towards $0.02.

Source: CoinGecko. Price chart of CUDOS relative to BTC.
Looking at CUDOS relative to BTC, there's nothing significant to note, except for it making a one-month relative low earlier this week. This is similar to the $USD price chart above, where the gains made in November have been retraced.
Conclusion
The ambition and vision of Cudos are fantastic. They have expertly highlighted the issues with cloud services in the traditional world, i.e., monopolistic, problematic with ESG, high cost for consumers, and in desperate need of fixing. The team believes that the Cudos Network is the only solution.
Decentralisation of cloud services could be the future. The question on an investors mind should be: will CUDOS lead this revolution?
WHERE TO BUY
| | |
| --- | --- |
| Centralised | Gate.io, KuCoin, Bittrex, Poloniex |
| Decentralised | Uniswap |
CONVICTION SCORE:
Digital Asset Market: CUDOS is not alone in being affected by this weakening market.
Hype vs Reality: Semi-Reality. The mainnet needs to be launched. CUDOS has a long way to go, but it seems to be taking the right path.
Trade or Trend: Trend. Trading in the current investment world is risky.
Market Outperformance: After breaking out above the market in November, the gains have now been retraced.
Competitive Advantage: The team behind CUDOS are unmatched in terms of traditional experience and success. Should the issues with cloud computing be featured more widely, I am sure more competitors will emerge.
Token Takeaway Score: 3/5