Disclaimer: Your capital is at risk. This is not investment advice.
Token Takeaway - Issue 16
Token Takeaway is tasked with finding alpha in the weird and wonderful altcoin space. As readers will see in our upcoming weekly newsletter, we have covered a fair few alpha-generating opportunities over the last couple of months.
This week, alpha has left the altcoin market (briefly) and entered the Bitcoin space. Perhaps Bitcoin's inflation-hedge narrative is coming to fruition, and the risk-on nature of altcoins are becoming unsavoury for many investors.
Today's Takeaway will focus on Ethereum and the weakness it is showing in a booming Bitcoin market. Investors should be cautious of entering the Alt. market if Ethereum is struggling; this is due to Ethereum being home to the majority of tokens, which enables it to act as a benchmark for the alt. space.
The Market Is Starting to Price in Ethereum's Systemic Issues
Digital Asset participates are simply fed up with how high the cost of the Ethereum Network has become. In 2017, many considered the gas issues that caused CryptoKitties to be the death of Ethereum. However, the gas prices caused by one of the earliest NFT platforms look minuscule in comparison to what the network has experienced between the decentralised finance (DeFi) summer to the current day.

Source: Etherscan. Ethereum gas prices over 4 years.
Ethereum suffers from a double-edged sword phenomenon: On one side, Ethereum holds the most valuable decentralised apps (dApps), on the other side, the popularity of these dApps have made the network unusable. The damaging effect of this can be seen when comparing the returns of ETH and BTC over the past month.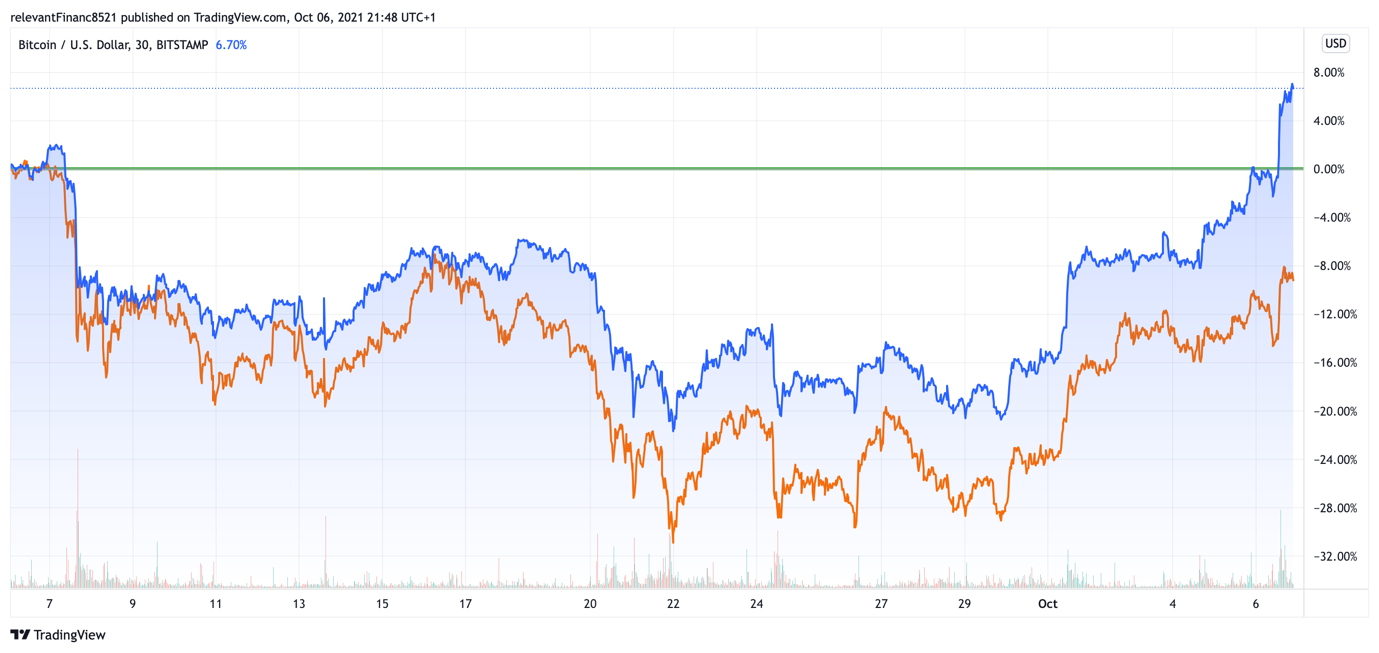 Source: TradingView. Comparison of ETH and BTC returns over a 30D period.
ETH has returned investors nearly 400% year-to-date and BTC just 80%. However, the tables seem to be turning in Bitcoin's favour. This comes after "ETH Killers", such as Solana, have been gaining significant market share in the smart contract ecosystem. This shouldn't come as a surprise, especially when considering many think that Ethereum's London hard fork was a "flop".
Ethereum's Situation Is Not Terminal
Ethereum, like any blockchain, can only hold so much activity before becoming a hindrance to its users. We believe this marks the start of the multi-chain paradigm rather than the death of Ethereum.
For the less versed, the multi-chain paradigm is a more visionary look at the future of smart contracts. It states that the future landscape of smart contracts will mature similarly to the social media industry. I believe it is a misconception to state anything in the digital asset space is a winner takes all situation, especially with smart contract blockchains.
If we relate this to social media, Facebook may have a large market share, but Twitter and other platforms have excelled brilliantly well. Each platform has a unique selling point, and this will be the case with the smart contract universe. Ethereum, like Facebook, will most likely dominate the lion share of the market through DeFi, while competitors like Solana will deal with NFTs (for example).
The Interoperability Paradox
The digital asset ecosystem is not as cutthroat as many believe. Many protocols aim to be collaborative. I am referring to interoperable blockchains, which is a fascinating concept that looks to enable seamless connections between dApps built on different blockchains. This trend will enable smart contracts to scale to accommodate global demand for dApps.
Finding alpha in this sector will reward investors handsomely in the long-term, but just like the dot.com boom, an investor must stay informed, so they can rotate to the leaders once others inevitably fail. With interoperable blockchains in such an experimental stage, one must be careful.
Lastly, although the ICON foundation has appeared to break trend over this past week, I would be more inclined to revisit it once the Alt. market is in a healthier state. Most importantly, when Ethereum has recovered from its weakness relative to Bitcoin.
Conclusion
The Alt. world is lagging Bitcoin, which signals a weak market. A faltering Alt. market has not been seen for a while, so perhaps a pullback and some profit-taking is understandable in the wider space. However, Ethereum's relative low against Bitcoin highlights the market's temper with the second largest digital asset. This does not mean the end is near for ETH, but simply that the multi-chain paradigm is playing out exactly how it should be.
We have not covered a specific token today, mainly due to the issues that Ethereum is experiencing. We urge readers to be cautious in a market where the top Alt. is experiencing systemic issues and a fragile market bid. You can't have a winner every week!