Disclaimer: Your capital is at risk. This is not investment advice.
ByteTree Market Health Update; Issue 85
The latest crypto business planning to list is the stablecoin provider Circle. They are coming to market via a SPAC, Concord (CND), with backing from Marshall Wace, Fidelity Management & Research Co and Third Point LLC, who are financing the deal with $415m. Circle is expected to be valued at $4.5bn and will trade with the ticker CRCL.
In early 2014, I attended a Coinscrum event (a fabulous Bitcoin networking group) hosted by Circle's CEO, Jeremy Allaire. It was set in a trendy venue in East London and was well attended by the Bitcoin crowd, who were extremely interested in the free beer.
Allaire was trying to speak to the audience, and I was trying to listen, but as I said, the Bitcoiners were most interested in the free beer. At the time, it was striking and somewhat inspirational that this serious-looking chap in a suit had a grand vision within the crypto space.
Back then, when most Bitcoiners got excited about financial freedom and anonymity, he made comments about crypto "interacting with civil society." Allaire was clearly the grown-up in the room, and I include myself in the mix.
He basically wanted to run a compliant-payments venture within the crypto space and stay on the right side of the regulators. The Circle App initially revolved around Bitcoin trading and transfer but soon morphed towards stablecoins.
Circle manage a crypto token called USD coin (USDC). It is just that; one token = one dollar. It might not seem like a game changer for crypto, but the stablecoin is absolutely that. Before it came to be, the banks stalled progress by blocking payments to and from the exchanges.
Stablecoins were the solution as you no longer needed to sell crypto for cash. Instead, you could sell for tokens and remain invested in the space. Crypto always wins in the end. Give it a problem, in this case, miserable and obstructive banks, and the crypto space comes up with a solution. This time it was crypto dollars.
USDC is regulated in the US and fully backed by US dollars. It has $26.4bn of USDC in circulation in a market worth $109.7bn. The major competitor, Tether, was dominant until its integrity came into question on various occasions. It won in court, but mud sticks. As a result, USDC has ballooned, taking its market share from 14.3% of the stablecoin market to 23.5%. It is on track to emerge as the winner.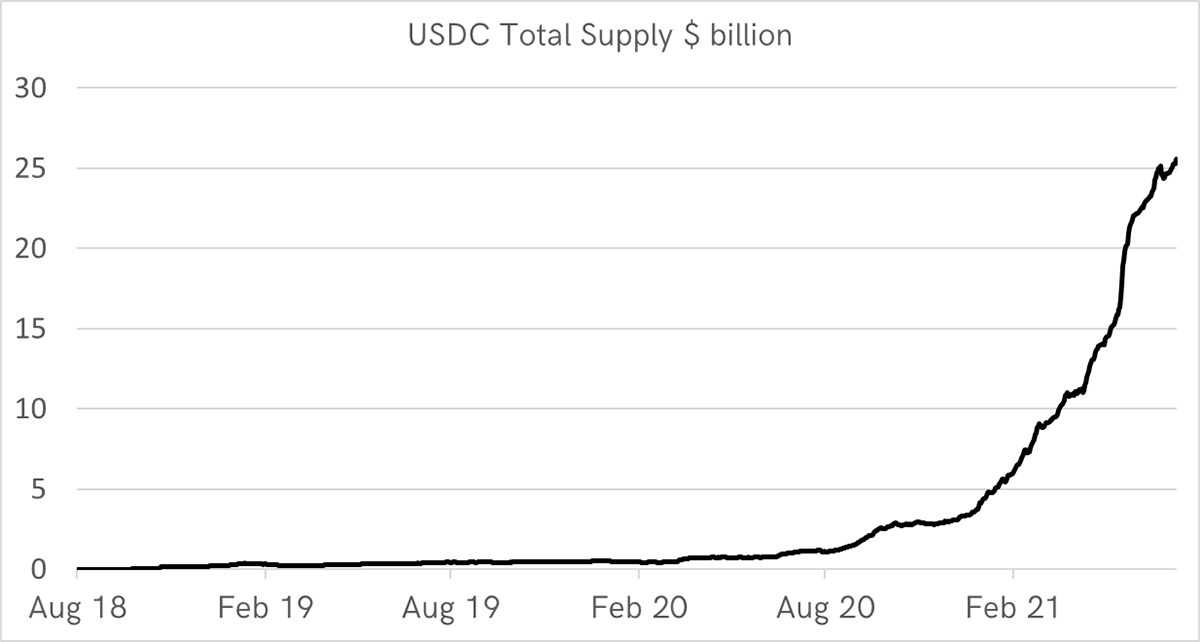 Source: Dune Analytics. USDC supply since 2018.
Allaire believes, as I do, that crypto is creating new capital markets infrastructure on the internet. USDC greases the wheels of the crypto economy and has applications outside of crypto as well.
Just as Chinese and European governments talk about central bank digital currencies (CBDC), the US lets the private sector get on with it. Circle has already done it and it works. A forward-thinking business today can operate on USDC and bypass opening a bank account entirely. That might not be for everyone, but it's a growing trend.
Circle make money from transaction fees, rather like PayPal or Visa. They are also engaged in decentralized finance (DeFi), where USDC can be put on deposit and earn between 2-4% on platforms such as Compound.Finance and Aave. In a zero-rate world, this is happening, and the old world of finance is missing out.
Yet, the old world is being stuffed with crypto stocks, and the list keeps on growing; Coinbase Global, MicroStrategy, Voyager Digital, Galaxy Digital, HIVE Blockchain, Bitfarms, Argo, CoinShares, Silvergate Capital, OverStock and Signature Bank. No doubt there will be many more to come.
A $4.5bn valuation to hold $26bn of cash sounds like a lot, but it's clear to the eye that this company is growing like a weed. An additional positive is that it powers crypto, yet has none of the volatility, making it a natural haven in comparison to the asset managers or miners whose fortunes are linked to crypto prices.
It must be getting increasingly difficult for institutional investors to avoid crypto, and Circle is unquestionably the starter stock for the cautious. It's regulated and looks more like fintech than Bitcoin, so the worriers ought to let this one pass.
But the old world will end up owning all of these stocks regardless, and that is why index funds always amuse me. They just buy whatever is stuck in front of them, meaning that investors who are trying hard to avoid crypto will end up owning it. Before long, everyone will be invested in crypto and crypto stocks, whether they like it or not, and Circle's listing will be a crowd pleaser.
ByteTree ATOMIC
Every Tuesday, I write ByteTree ATOMIC. This is Bitcoin analysis covering technicals, on-chain, macro, investment flows and a snippet about the crypto space - find out what I really think!
Yesterday, I analysed ByteTree's valuation of Bitcoin, and last week I explained how I disagree with Goldman Sachs' latest Bitcoin report.
ByteTree ATOMIC is included in ByteTree Premium, along with much more. I very much hope you join us. Subscribe here.