Disclaimer: Your capital is at risk. This is not investment advice.
Week 22 2021
The Bitcoin Network Demand model drops to a 2/6 this week. This moves the model to "bearish" for the first time since early last year. Yesterday, the price closed below $37k as volatility remains above 108%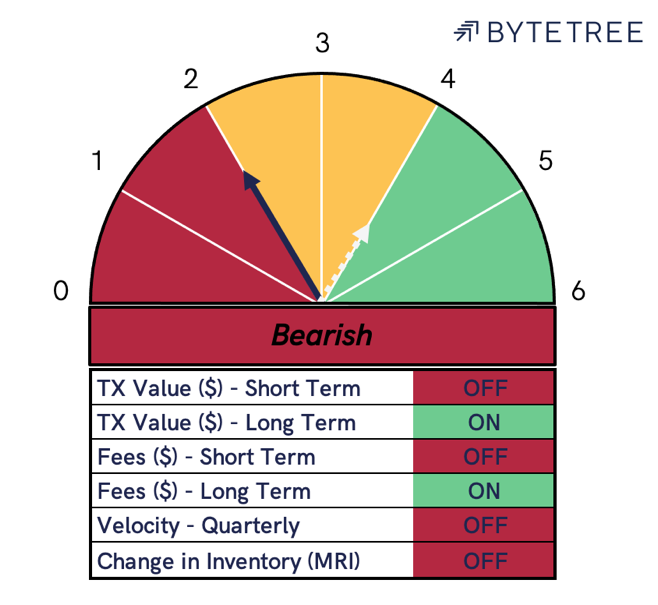 The surge in BTC denominated transactions that occurred around last week's turbulent price action has now calmed. This keeps the Velocity signal set to "OFF".
With velocity and price falling, it is no surprise to see short-term transaction value (USD) is also falling. The Bitcoin Network was transferring an average of $9Bn per day during the first quarter of 2021, now sitting just shy of $6Bn. This marks a 45% decline versus last week and turns the signal to "OFF".

Source: ByteTree Terminal. 7-day rolling Transaction Value (USD) vs Price.
The other metric to switch "OFF" this week is short term fees (USD). Fees are a consistent indicator of demand on the Bitcoin Network as they are paid by network users for prioritising the order of their payments. Higher fees indicate that there are a greater number of transactions competing for the limited space on Bitcoin's ledger.

Source: ByteTree Terminal. 7-day rolling Fees (USD).
Network fees (USD) have been falling sharply since late April and have reached their lowest level so far this year.