Disclaimer: Your capital is at risk. This is not investment advice.
ByteTree Market Health Update; Issue 73
With 312,500 BTC mined since the last halving in May 2020, there are one million BTC that need to be mined before the next halving. That is expected to take place on 6 May 2024. At that time, 93.8% of the 21 million final total supply of Bitcoin will have been mined.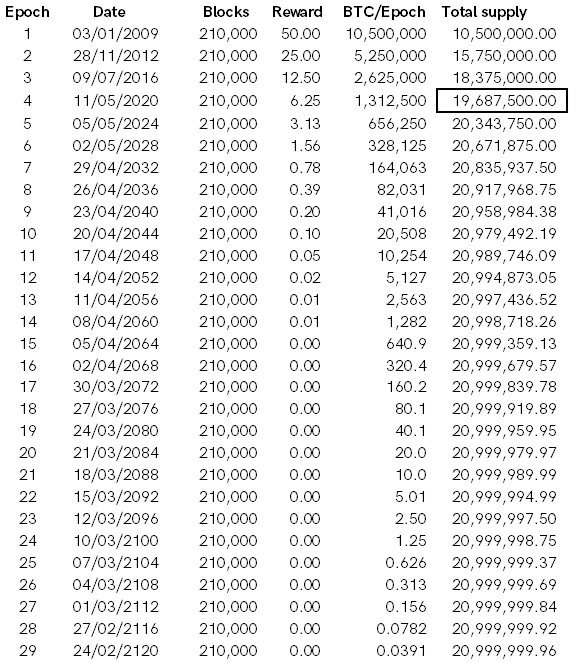 Source: ByteTree.
It is a reminder of how the situation starts to tighten. By 2028, Bitcoin will be 98.4% mined and 99.2% by 2032. From then on, new supply slows to a crawl until we finally reach 21 million next century.
The miners' primary objective is to sell Bitcoins. Between now and May 2024, one million BTC will be sold. The average price in 2021 has been close to $50,000. I remind you that, at current prices, $50 billion of Bitcoin will be sold by the miners by May 2024.
This will inevitably make some of the more bullish price targets hard to achieve. They are indeed possible; they just require a truckload of money.
Watch us on ByteTree TV tomorrow for the Gold versus Bitcoin Debrief
The great debate between Frank Giustra and Michael Saylor takes place tonight (Wednesday 21 April) at 8pm BST (3pm ET and 9pm CET). We'll be glued to the screen as if were the World Cup Final. I wrote about this debate two weeks ago.
If you are in any doubt as to how these great assets can work together, then look no further than ByteTree's BOLDIndex. That is the combination of Bitcoin and gold.

Source: Bloomberg. ByteTree BOLD Strategy since 2014.
It is financial poetry.
BOLD has such an incredible outcome, despite hairy times for both assets, because gold and Bitcoin are fundamentally different. Join us tomorrow, 22 April, at 4:00 PM for the best gold and Bitcoin analysis in the world.