Disclaimer: Your capital is at risk. This is not investment advice.
ByteTree Market Health Update; Issue 38
Bitcoin is up 62% this year, which is remarkable. Yet the level of hype remains subdued. Worldwide Google searches are 85% below the 2017 peak levels while the price is now just 38% below the all-time high.
Price and search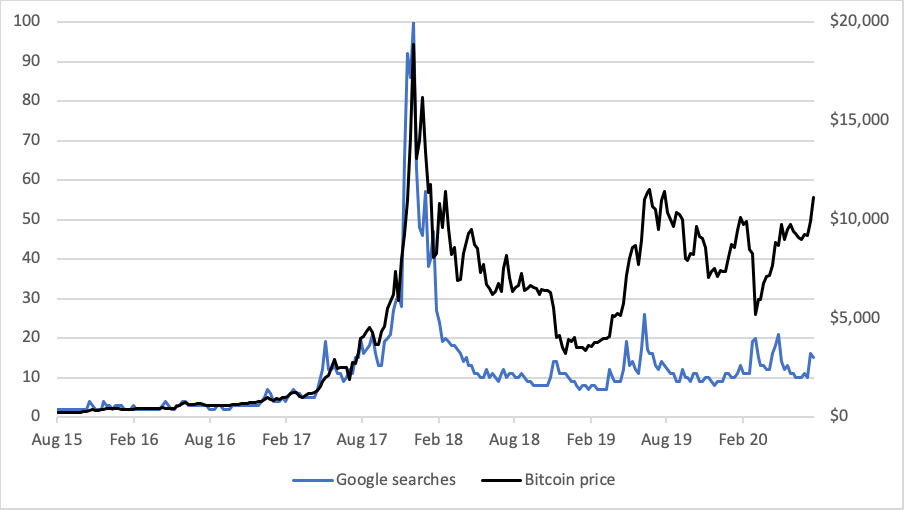 Source: ByteTree and Google.
Bitcoin versus equities
Of the four most valuable companies on earth, Bitcoin has only been narrowly pipped by Amazon. It is comfortably ahead of Facebook, Alphabet (Google) and Microsoft - quite an achievement. No sector or country comes even close. You have to wonder why the majority of leading tech investors don't allocate to Bitcoin.
Neck and neck with Amazon

Source: Bloomberg.
Bitcoin versus precious metals
Given the recent move in silver and gold stocks, you'd think that would leave Bitcoin for dust, but yet again, the almighty move in silver is still 5% behind Bitcoin this year. Gold is 33% behind Bitcoin and the gold miners, the altcoins of the gold space, are 19% behind.
Ahead of silver

Source: Bloomberg.
Why do so few people see what is happening? Bitcoin is quietly creeping back to the all-time high. The network is growing, the space is more vibrant than ever before, and volatility remains low. If this sort of performance comes during a quiet market, let's keep things just as they are. It's all the proof you need that when the majority eventually find out what is going on, the best will be behind us.
Bitcoin versus currencies
I prefer to think of Bitcoin as an asset as opposed to a currency, but many disagree. Perhaps it's splitting hairs and it doesn't really matter. In any event, the best-performing fiat currency this year, from the developed world, is the Swedish Krona +4% (with no lockdown), and the best emerging currency is the Philippine Peso +7%. Credit to both, but it is some way off Bitcoin's 62%.
What interests me more are the currencies feeling the pressure. Despite all the talk about the dollar, it is down a mere 3%. Given there are so many of them, 3% is more than it sounds, but still, 3% doesn't grab headlines.
In FX, the biggest fallers are the Indonesian Rupee -6%, the Mexican Peso -15%, the Turkish Lira -18%, the South African Rand -21%, and the Brazilian Real -26%. These are serious falls, and in most cases, it feels more like the beginning of something big rather than the end of something small.
Sound money

Source: Bloomberg.
The number of people wondering how to protect themselves from devaluation from these currencies comes to 756 million people.
| Country | Population (million) |
| --- | --- |
| Indonesia | 273 |
| Brazil | 212 |
| Mexico | 128 |
| Turkey | 84 |
| South Africa | 59 |
| Total | 756 |
And I haven't included Pakistan (Pop 220 million, PKR -9%) or Nigeria (Pop 206 million, NGN -5%). With 18.5 million Bitcoins in the world, it's not hard to see how much potential demand is still out there. Currency debasement is happening at a faster pace than usual. Bitcoin is an attractive hedge for the many, and when the likes of India and China join the debasement party, its appeal to the masses will become all the more apparent.
Network Demand Health Model
No change from last week with the latest health score at 5 out of 6. Velocity is still on the light side, but at 607% is improving.
Summary
In the film Wall Street, Gordon Gekko famously said "greed is good." When looking at ByteTree data, we prefer to say "green is good." There's a touch of red over the past week, but the 5- and 12-week data points are a sea of green. That's bullish.