atlaspulse
Atlas Pulse Gold Report
Atlas Pulse (est. 2012) is a monthly report on the gold market written by Charlie Morris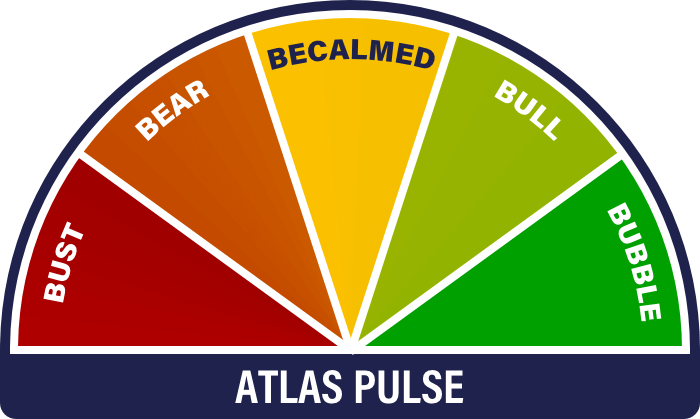 Track Record
January 2013 - Downgrade to bull market at $1,675
February 2013 - Downgrade to becalmed at $1,663
May 2013 - Downgrade to bear market at $1,476
February 2016 - Upgrade to becalmed at $1,175
December 2018 - Upgrade to bull market at $1,249
About Atlas Pulse
Gold is probably the simplest of all investments, yet is widely misunderstood. It is a store of value with a 5,000-year track record that transcends borders and cultures. Gold is the world's most liquid alternative asset and provides genuine portfolio diversification, especially during troubled times. Despite huge Central Bank ownership, many believe gold can't be valued because it doesn't pay a yield. It is often described as a "barbarous relic" or a "pet rock", with no productive purpose.
Atlas Pulse gives an unbiased view on the gold market. It looks at the fundamental drivers behind the gold price, as well as risks and flows, with a valuation model based around inflation and interest rates, which has been remarkably accurate. The report advises on where we are in terms of the gold market regime, providing a strong guide to long-term investors.
About the Editor
Charlie Morris is the Editor and Creator of the Atlas Pulse Gold Report, established in 2012. His pioneering gold valuation model, developed in 2012, was published by the London Mastels Bullion Association (LBMA) and the World Gold Council (WGC). It is widely regarded as a major contribution to understanding the behaviour of the gold price.
Charlie is also the Chairman and Chief Investment Officer of ByteTree, which he founded in 2014 as a platform to deliver independent, robust and thought-provoking market analysis.
Charlie has 25 years of fund management experience and is a pioneer of multi-asset investing. At HSBC Global Asset Management, he launched the Absolute Return Service in 2002, which grew to over $3 billion. Much of that success came from moving away from the crowd and embracing a wider range of asset classes that traditional investors were not familiar with at the time.
Subsequently, Charlie managed the Total Return Fund at Atlantic House Fund Management until June 2020, at which point it was ranked number 1 out of 48 funds in the Trustnet Target Absolute Return Sector. He sits on the investment committee for the Society of Technical Analysis and on the Board of Halkin Services, a renowned investment think tank. He has regularly been featured in leading news publications and has given numerous presentations to investment bodies and Universities.
Prior to a career in finance, Charlie served as an officer in the Grenadier Guards, British Army, having graduated from the Royal Academy Sandhurst in 1994.
Subscribe to Atlas Pulse
The Atlas Pulse Gold Report is published monthly and is included in our free subscription plan, 'ByteTree Research'. To receive future updates by email, create an account and opt-in to receive Atlas Pulse in your newsletter settings.
---